During my trip to teach a evangelism class for pastors at the Wesleyan seminary of Venezuela, I had the opportunity to preach at a rather large church in a suburb on the other side of the mountain.
Our missionary friends in Barquisimeto arranged it for us.
Getting there was a challenge.
First a taxi to my friends house from where I was staying.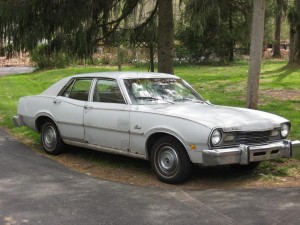 Then the church sent a car to pick us up.
This ride was a 1974 Ford Maverick, similar to this one pictured here.  I don't remember if seat belts were even present.
We could hear the motor from yards away.
Even the side veiw mirrors were in a different place than where I am used to.
One thing about Barquisimeto.  If you have any nostalgia for beater cars from the 70s, you'll go wild with car lust in this city.  My friend told me that getting a new car takes over a year unless you pay bribes.
Sharing my passion to reach the lost
About 200 people gathered at Buenas Nuevas Cercado (Good news church in the community of Cercado) for their normal wednesday night believers service.
Only about 1/2 the building in in this picture.  The church had taken over a house at the end of a dead end gravel street.
As an aside I was impressed with the ushers and greeters they had in place.  These volunteers joyfully fulfilled their duties and ministry in this role.
I shared a message out of the main content I teach in my courses.  Even more so, I did this in Spanish without a manuscript. . . 🙂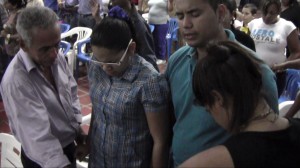 We moved into a time of prayer ministry, calling on God for the church's work in the community.
Pictured here, members of the worship team are asking God to use their church to make a difference in the community.
People afterwords expressed to me what that prayer time meant for them.
Afterwords, we visited with the pastor and his wife before I got to ride in a nice car to get back to my residence for the week.