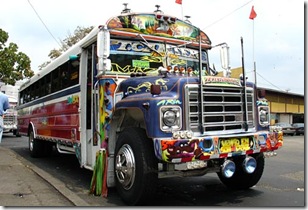 When we moved here to Panama, we sold both our cars and chose to use the public transportation system.
Taxis and buses are our primary means of getting around. 
Having experienced it for several months, would you join us in praying for provision of a car?
Yesterday for example, what would have been a 15 minute car ride, took 80 minutes in a bus.  Other times, we have chosen to forgo an errand or even skip a meeting simply because the moving around the city is near impossible at certain hours.
Tomorrow is payday for a majority of people.  Starting around 3pm, the streets, cars, and buses will be jam packed and gridlock will exist until nearly 7pm.  The challenge for us is that we are to conduct an evangelism workshop across town and need a bus to get there.
During rush hours, taxis refuse passengers if they don't want to go there.  We have been left stranded a few times, and occasionally shown up 90 minutes late because of transportation issues.
Here is a story from La Presna about the problems with buses, focusing on overcrowding and limited supply.  It doesn't address the fatal bus fires or fatal accidents from drag racing at night that have happened recently.
Tourists might think its cool to pay $0.25 for a bus ride experience, but for those of us who live here and need to use them, they can be a dismotivating obstacle to doing life.
It is one of the largest issues that has dominated the news here in the last few months, and most of today's morning news was about transportation.