Through God's sovereign working, we've received an invitation to do a workshop here in November in a church out in a very poor suburb of Panama City.
According to the pastor, this suburb has over 63,000 residents, only 3% of which are professing Christians.  I'm told there are approximately 45 churches trying to serve this residential area, with most memberships under 100 people.  This suggests an large unreached population.
The church itself is on a main road.  It is a one room structure with a metal roof, and thus it gets very hot inside when the sun is out, or very impossible to hear when it rains.
The walls are made of whatever material can be found.  Picture is the block wall.  The back wall is unfinished wood planks, or 1/4 plywood on some battens.  Other times it's tin.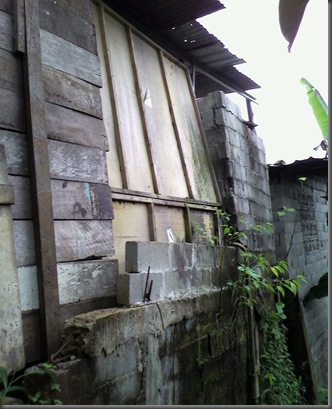 We attend a prayer meeting on a Saturday morning in this structure to help plan the event in November.
Instead of a Sunday morning time, when the sun would overheat the building, the workshop will be on a Thursday evening after working hours.  This will present a logistical challenge for our team to get there on a school night, in the dark, and without a car.
Pastor leads up a pastors association and his dream is to have several churches squeezed into this little one room church for an evangelism workshop.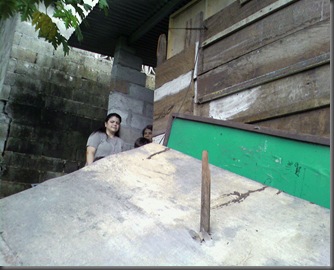 Yes, that is a stake holding a piece of plywood in place.
We had rented a car for the weekend to make sure we were able to get out there.  Even with a car, it was still about 45 minutes from where we live.  I can't imagine the bus trip during rush hour traffic.
The community needs are so great (one block away is a intersection that at least 3 gangs fight for control over – it's the border between them all).  Crime is a concern being the "gringo" in a poor neighborhood after dark.
The lack of resources is clearly visible in the structure of the church, as well as a little thank you gift we received: a bag of lemons from the tree in the back yard.
Pray for this little church, the workshop, and the logistics of how we will get there.