We have started working with a new church plant here in Panama.
While we are not yet meeting on Sundays, we've been meeting as a leadership team for several months praying for our neighborhood (Corregimiento De Bella Vista,  Church planting in Our Context), building relational connections with people, and even celebrated a baptism in our pool (Why we do this).
Beginning in late July, we'll begin meeting in a house on Sunday afternoons.
Partnering with a missions team.
This week, a missions team from Richmond Virginia helped us with a park outreach and some other street outreaches.  They provided the dramas, brought us some literature to distribute and it's been a blast having them.
The goal of our partnership was to help us make contact with people.
Saturday's Park Outreach
We are in rainy season here, so for nearly 30 days, we had been praying for a dry afternoon.  Yet in God's sovereignty, we experienced a thunderstorm about 2 hours before our outreach was scheduled to start.
This caused a skateboarding festival in the park to be delayed for hours.  The end result is that instead of families being in the park, we had nearly 200 young skateboard enthusiasts.
That was our audience, but once their games resumed after the ramps dried up, they had their attention elsewhere.
We made meaningful contact and conversation with about 10 people.
We learned about the skating subculture here, and I had conversation with some 20-somethings about their faith and about their struggles.  We are making follow-up connections this week working at recruiting these new contacts into our weekly bible study.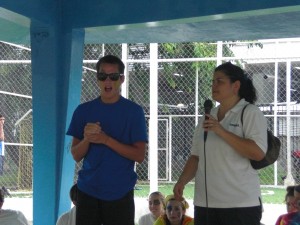 Brenda ran some crafts for the smaller children that eventually arrived and served as translator for the team when they spoke.  Here, one of the young people is giving a personal testimony about their faith in Christ, and Brenda's translating for them.
Personal Joy
Part of the joy of ministering as a family is watching my kids serve as well.  Brandon's fluency in Spanish has grown to the point where he could provide some translation work on a conversational level.  Watching him serve that way brought joy to this dad.
Anakarina and Brandon both were distributing literature (Who would deny taking stuff from a kid?) and helping out with the crafts and dramas.  Anakarina played the lost sheep during an improv skit.
Join us in Prayer and Support
Continue to pray for our ongoing work of this church plant.
Continue to pray that we increase our levels of monthly support to keep working in fulfilling our calling here.
Consider joining our monthly Support team or make a special gift to help us continue?
Keep up with our news and get instant updates by clicking here.