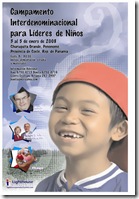 Brenda and I have returned from the Interdenominational Camp for Children's Leaders, held at the Foursquare Camp in the mountains around Penonome Panama.
There were nearly 250 children's workers, pastors, and elders in attendance from 9 denominations (not one Presbyterian but us), from nearly every province in the country.  Some came on a 14 hour bus ride to get there.
We shared the stage with recognized experts in the US in Child Evangelism (http://www.onewaystreet.com/, http://www.chagy.com/, and Kurt Jarvis of www.incm.org).
Our workshops
Brenda taught a workshop on crafts, and appeared to have nearly 100 people in attendance.  She showed how one can use every day materials (e.g., toilet paper holders, paper plates, paper towels, egg cartons) and cheap supplies (like popsicle sticks) to make all sorts of simple crafts.
I taught two workshops on Developing and Stepping into your vision, based on some principles gleaned from Nehemiah.  I still teach with a translator, but conversationally, my Spanish is improving.
Brandon and Anakarina had a great time and had the opportunity to participate in some choreographed dances (Anakarina stole the audience's heart) and Brandon even managed to get several to play the UNO game with him (which he taught in his limited Spanish).
This conference has allowed us to network with many workers here in Panama.  Brenda and I both received invitations for follow up workshops at churches all over the country.  To accept them all, or follow up on all of them, would keep us busy here for the next several months.
Other workshop topics included:
Teaching Bible Lessons Creatively
Basics of Children's Ministry
Introduction to Puppets
Developing Leaders in Children's Ministry
Introduction to Christian Clowning
Teaching the Bible using Object lessons
Ideas for teaching children about the Bible and prayer
Bible Memory via music
Principles of successful leadership
Using face painting to teach the Bible
Visual Ideas to teach the Bible
Recruiting and Training Volunteers
Clown Makeup
Ideas for maintaining discipline and attention in the classroom
Child Psychology and development
Creativity with Crafts for Sunday school
Intermediate Puppet training
Creative Evangelism with clowning.
How to make balloon sculptures
Games to learn Bible stories
Development and Maturing of your vision
Basics of clown movement
Tools to aid in Bible Memory
The development of faith in a child regarding salvation
Sleight of hand tricks to use for gospel stories
Ventriloquism with puppets
Using the Wordless Book
Motivating leaders
Songs with puppets
How to work with Children in High Risk Areas.
I got to get familiar finally with the evangecube and the wordless books for children's evangelism.  These are tools I have been aware of, but never had my hands on them.
See our photos here: http://www.facebook.com/album.php?aid=26674&l=0e01c&id=577988295.
Continue to pray for our work here.  For those of you who donated in December, we give you deep thanks for your timely gifts.