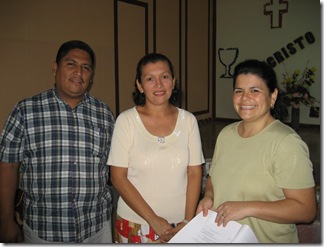 Brenda and I finished our workshop at the 1st Children's Ministry congress for the area of La Camima. 
This congress was an outgrowth of the Teaching Children's Workers in Arraijan in July of this year. 
Because of common issues lack of finances and accessible transportation not every one can come to a leadership conference like the one in January which was about 2 hours outside of the city, or the one in July that was about 30 minutes away from the city. 
As Brenda and I were praying this morning, it dawned on us that nearly all the attended arrived by foot, or by taxi.  In the very small parking lot (which is plot of land), it was just our car, and the car for the other speaker.
Meet Raquel
One of those attendees, however, Raquel, was inspired to organize one for her local area.  She managed to gather about 40-50 men and women from approximately 10-15 different churches.  I am unaware of the final count.
Raquel is the children's pastor of this little church.  She's been investing in that church for 12 years, and now some of her students from 12 years ago are now sending their children to Raquel to participate in the Children's ministry.
In spite of the lack of resources and difficult access to training, se has perserved and their church of about 50 members is currently ministering to about 200 kids on a weekly basis.  The church has already added a children's classroom building, but already it is overflowing (see the video).
When we first met Raquel and Christian to plan this meeting, we heard their heart for this area.  We heard stories of at-risk kids, and then we heard about the hardships and challenges of ministering in that environment.  We heard their heart about training other children's workers who couldn't get to these conferences so far away.  She approached Brenda and I about doing something for them in their little area.
Getting to the Congress
Though we rented a car, at times we felt like a 4×4 was more suitable for the road conditions. Heavy construction equipment from a local mine has destroyed what may have been a road.  Potholes, washouts, missing pavement marked this road once we left the developed area. 
The area would be considered rural.  Google maps doesn't do well out there.  I tried embeding one, but the embed didn't work.
The Children's Leadership Workshop
Brenda did a 2 hour workshop on creativity for creating crafts and object lessons.  
In this country where more than 1/3 live on under $100 a month, money to buy craft ideas is not easy to spend.  It's not as if you can go to Wal-Mart or a Michael's.  
Instead, Brenda helps children's workers use stuff that is already in a house: toilet roll tubes, styrofoam trays, egg cartons.   This particular lesson was on creativity — how to find the ideas and how to brainstorm.  Almost as close to costing $0.00 as you can get.
For example: Brenda made this scene out of paper towel tubes, paper towels, a cut up toilet roll tube, some rubber bands and some shredded paper.  I think the total cost may hae been under $1.00 for the yellow paper.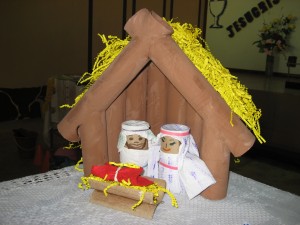 I gave a 1 hour lecture in "heavy" Spanish on getting and maintaining a vision for Children's ministry.  It was a challenge to prepare that in Spanish, and I was grateful to have gotten it done.  This makes the 5th workshop I have given entirely in Spanish.  I'm growing in confidence and I'm told growing in fluency.
How do you keep a vision for ministry even when kids rebel, when there are no resources?  
How do you perservere in your vision when the going gets tough?
I focused on getting filled again with the Holy Spirit, praying for your vision, and recruiting others to pray for you and serve with you.  It may seem basic to some of us, but these things always serve as a good reminder to refresh the weary.
Our video
Finally, I've put together a brief video that I hope will give you a feel for what we did.
To do a workshop like this, we have to rent a car for the weekend.  Continue to pray that we'll receive more workshop opportunities as well as funds to pay for our expenses.   To advance our work in Latin America, see directions at Donate Online to Support our Work